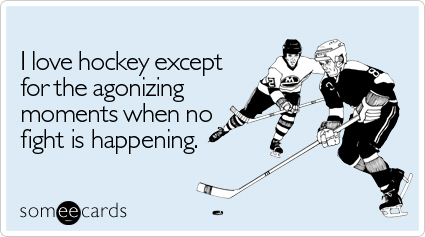 New York is not really a hockey town. The Rangers never make the back page and they don't really get more than a passing mention on the nightly sportscasts.
Maybe it's because the New York Rangers aren't very good. The Mets don't really make the back pages either and I can hardly claim New York doesn't care about baseball.
I've recently been reading my rules of hockey book, so lately I've found myself in the midst of random conversations about the sport.
The other morning, a huge guy taps me on the shoulder. I take out my earbud and in the thickest Russian accent you ever did hear, he says:
"You cannot learn hockey from book! Hockey is on ice and skate! No book!"
"Oh, I don't play. I just watch on TV."
"You don't need book for TV hockey then. You watch the TV."
I laughed.
"What you want know? I tell you."
I figure I'll make Drizz happy.
"What's icing?"
"Well, it's when one guy, whooosh to the puck and it goes all the way on other side and other guy, no goalie, gets it. Then is icing. Or game is stupid without this rule. Just whoosh whoosh with puck."
Uh huh.
Then he told me some other stuff about the lines dividing the ice, which I'm sure was right when he said it, but am equally sure I'd get it wrong in the retelling of it. They're red and blue though… I assume the blue lines are best. You know, like for states. Oh, then it turned out he played in some Russian league and thinks the NHL is stupid. Then he got off the bus.
My Mets fan coworker, who Vinny says looks like a hippie, told me that he went to college with Chris Drury, but gave up hockey after the strike.
"But baseball went on strike too…"
"Well…you know, maybe it's because all the hockey players have these crazy European names that I can't pronounce."
"Not the Rangers! They're easy! Boyle, Callahan, Stepan… I guess Anisimov and Lundqvist are kinda hard, but you get used to it!"
He laughed. "I'm too ethnocentric."
"Right. Cause all the baseball players are Joneses and Smiths!"
"No, I guess you're right. I don't know why I'm not into hockey anymore… I like Sidney Crosby though."
I made a vomiting sound.
"What the hell kind of ethnocentric are you? He's Canadian! Worse he's THE Canadian who stole our gold medal last year! I hate that guy and want him deported!"
"You can't hate a kid for winning a gold medal for his country like that."
O_o I can and I will. #truestory
When I went to Madison Square Garden for game four of the Stephane Cup, I was surrounded by Sabres fans, but the boyfriend of one of the girls wearing Vanek jerseys (another black woman if you can believe that!) kept telling me that this is the most excited about hockey that he's been in 20 years.
"We're back!"
Well…sorta…this is my first time here.
And this book is 11 years old.
Let's go Rangers!